---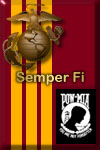 Background and USMC graphic by Ron Fleischer

Name: Leonard Robertson
Rank/Branch: O3/US Marines
Unit: VMA 533, MAG15
Date of Birth: 12 January 1945
Home City of Record: Northport NY
Date of Loss: 07 July 1972
Country of Loss: South Vietnam
Loss Coordinates: 163700N 1064750E (XD837384)
Status (in 1973): Missing in Action
Category: 1
Aircraft/Vehicle/Ground: A6A
Other Personnel in Incident: Alan J. Kroboth (returned POW)
Source: Compiled by Homecoming II Project with the assistance of one or more
of the following: raw data from U.S. Government agency sources, correspondence
with POW/MIA families, published sources, interviews.
Date Compiled: 15 March 1990
REMARKS: VC TOLD KROBOTH ROBERTSON DEAD
SYNOPSIS: The Grumman A6 Intruder is a two-man all weather, low-altitude,
carrier-based attack plane, with versions adapted as aerial tanker and
electronic warfare platform. The A6A primarily flew close-air-support,
all-weather and night attacks on enemy troop concentrations, and night
interdiction missions. Its advanced navigation and attack system, known as DIANE
(Digital Integrated Attack navigation Equipment) allowed small precision
targets, such as bridges, barracks and fuel depots to be located and attacked in
all weather conditions, day or night. The planes were credited with some of the
most difficult single-plane strikes in the war, including the destruction of the
Hai Duong bridge between Hanoi and Haiphong by a single A6. Their missions were
tough, but their crews among the most talented and most courageous to serve the
United States in aerial combat.
Capt. Leonard Robertson was the pilot of an A6A Intruder from VMA 533, Marine
Air Group 15. On July 7, 1972, Robertson and his co-pilot, 1Lt. Alan J. Kroboth,
were assigned a mission which took them near the DMZ. When the aircraft was
near the city of Khe Sanh, it was hit by enemy ground fire and crashed. No one
was thought to have survived.
In March of the following year, Alan J. Kroboth was released from POW camps in
Hanoi. In his debriefing, Kroboth stated that the Viet Cong had told him that
his pilot was dead. Kroboth never saw him after the crash of the aircraft.
Leonard Robertson is one of the missing on whom the Vietnamese are known to
have information. If he is indeed dead, then someone knows the location of his
remains. If he did not die in the crash of his aircraft, then someone has the
answers to his fate.
Since American involvement in Vietnam ended in 1975, nearly 10,000 reports
relating to Americans missing, prisoner, or otherwise unaccounted for in
Indochina have been received by the U.S. Government. Many officials, having
examined this largely classified information, have reluctantly concluded that
many Americans are still alive today, held captive by our long-ago enemy. These
are men who served our country willingly. Can we afford to turn our backs on
these, our best men?
---
---

---